So many beautiful rings and bracelets to wear and complete your look, the accessory to this beautiful baubles is beautiful hands and nails. With more and more people saving money and the economy in a downturn, why spend the $20 for a manicure when you can take some me time and do it at home. You don't have to inhale massive amounts of fumes and for not a lot of coin you can have beautiful nails any diva would be proud to show off.
The following article is from
Styles101.com
:
1. Remove any old nail polish.
2. Shape the nail, using a file or emery board. File each nail tip from corner to center; do not file in a see-saw motion with the emery board because doing so can cause ridges in the nail and nail splitting. By filing nails to a point...this will make nails weak. A rounded or square form is the strongest.
3. Soak the hands in warm, soapy water for a few minutes to remove dirt. This will also soften cuticles and make it easier to push cuticles back. Clean under free edge of nail with orangewood stick.
4. The cuticle is the skin that grows from the finger onto the base of the nail (nail root). Push the cuticle gently back. Leaving the cuticle intact helps to prevent infection of the nail growing tissue. NEVER cut cuticles! This can cause the nail to die if done improperly!
A weekly manicure can do wonders for your nails and cuticles. Not only will a weekly manicure promote faster nail growth, your nails will also become stronger with each manicure. Treat yourself and have a manicure professional done. The usual cost ranges from $10 upwards to $20, plus the manicurists' tip and the appointment lasts about 30-45 minutes with drying time. If going to the nail salon is not an option, opt to give yourself a manicure at home. Do it yourself Manicures, not only make your hands look great, they're easy to do!
Do it yourself manicure
5. Apply a base coat. We highly recommend calcium gel. This works wonders to help nails grow faster and hardens as well. Allow to dry for a minute or two. Next apply 2 coats of favorite polish. Then finish with a shine sealer. Allow nails to fully dry for at least an hour.
6. Finally, apply a moisturizing cream or lotion to the hands and cuticles. This will help prevent splitting of the nails.
They also provided some natural recipes for natural nail care these are great for wanting to do a spa day!
Hand & Foot Exfoliator

Ingredients:

2 Tlbsp of fine sea salt

2 heaped tsp fine oatmeal (same kind as in your cupboard)

1 tsp. baking soda

Directions:

Combine ingredients, and add enough water to make a paste. Apply to skin and rub gently. Rinse and gently pat dry.


Ingredients:

1 Tsp. natural clay

1 tsp. olive oil

3 drops lavender essential oil

Directions:

Mix into a paste and put into a sterile ointment jar or small pot. Wash and clean old make up jars, they make great storage containers! Massage into nails and cuticles.


Lemon & Honey Cuticle Soak

Ingredients:

2 tsp.lemon juice

1 tsp.honey

Directions:

Mix honey and lemon juice to combine well in a bowl big enough to fit both tips of hands in. Add water and mix. Next, soak finger nails in the mixture for 5 minutes. Blot dry then gently push cuticles back using a orangewood cuticle stick. Finish with your favorite lotion.


Honey Hand Exfoliator

Ingredients:

1 tbsp honey

1 tablespoon cornmeal or finely grated oatmeal

2 tbsp. of whipping cream

2 drops lemon essential oil or an acidtic oil

Directions:

Combine ingredients in a small jar. Apply to hands or feet and rub gently. For added softness, leave on for 5-10 minutes. Rinse and gently pat dry. May be stored for 2 weeks in refrigerator.

Cuticle Softener

Ingredients:

1 tsp. olive oil

1 tsp. vitamin E oil

Directions:

Combine and massage into nails and cuticles.


Tips for storage

Since these are all natural recipes, we do not add any preservatives. Store in refrigerator for as long as you would normally keep fruit. Maximum 2 weeks, sealed.

Ideas for storage:

make up jars such as the ones that eye shadows come in or foundation jars

skin care jars, glass

Looking for a great nail polish color: I suggest
Sally Hansen Lacquer Shine in Flair
. It's a gorgeous purple just in for the season! It really draws attention and looks great on a ton of skin-tones.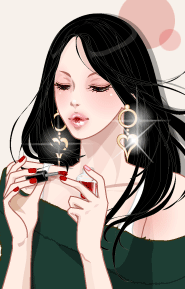 Your nails should accent your jewelry in no time. Looking for new Bling for your hands and wrists? Contact me for a catalog or take a lookat the catalog on line use the left menu for the links ot the catalog and check out our fabulous line of rings bracelets and jewelry to compliment your look and make a statement! Your jewelry is waiting for you!