Happy Ano Nuevo y'all!
I hope that the new year ushers in new goals and challenges and memorable moments for you all. My new year was spent quietly with my family. While the baby slept me and the hubby and my daughter who woke up to the sound of fireworks, had glasses of sparkling cider. It was quiet and wonderful as she watched the vivid colors of the fireworks illuminate the night.
Today I'm reviewing, a God send of a liquid that I purchased on Etsy via
AceNaturals
that makes any powder mineral foundation into a liquid foundation. I recently have noticed that even with exfoliating the apples of my cheeks were getting dry patches and it was very revealing when i used my powder mineral foundation. Even though i do moisturize with Argan oil and prime using
mark. Primed for Perfection
, my cheeks were still drying out. This was quite disturbing that despite all my efforts my skin still was not receiving enough moisture. So the search for a liquid mineral foundation began...much to my dismay. I abhor looking for foundation. It's a lot of testing and disappointment and frustration..not to mention a lot of monetary investment , even if it is samples. One and two dollars here and there really adds up.
However, I pressed on, looking at sellers on Etsy who made liquid foundation, established indie companies that had their own line of LMF (liquid Mineral Foundation) and much to my dismay were the ingredients. I love
PMF
(Powder Mineral Foundation) because of the lack of ingredients. I in my current foundation there are 5 ingredients, all safe and lovely. In the light formulation of it there are 6 but again all stuff i trust and know won't harm my skin. when liquid is added to PMF the issue of preservation becomes strongly apparent. Keeping the soft creamy feel of the foundation also is another issue and blending and not settling in fine lines etc..all the hassles of traditional liquid makeup comes back (of which i heartily tossed when making the switch to MMU year ago).
Ingredient lists get longer and more complex. Not the route I wanted to go. So i looked to see if there was a mist or a liquid by itself i could add to my PMF that would help. Lots of sites suggest a mist of filtered water to set the makeup, but i hate misting my face. Not a feeling i want everyday, plus it would ruin my hair in the process. Curly hair gals have enough to deal with. There were a couple of mixing mediums but the paraben preservatives immediately disqualified them.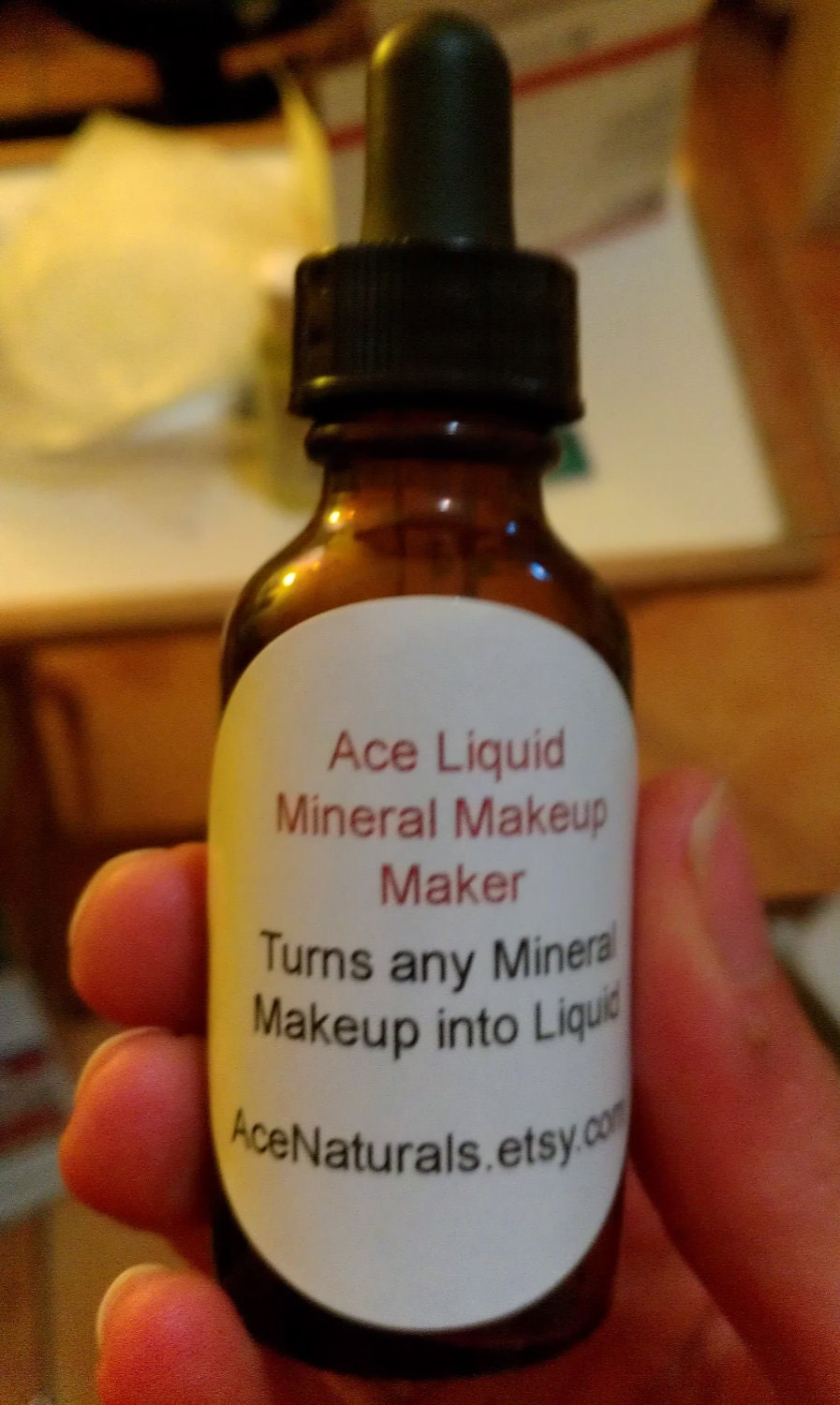 Enter AceNaturals. Founder and owner of Organic Mobile Tanning, Erik Ace in Miami Florida, is an esthetician student and handmakes all his products. He has this liquid that is a mixture of oils which, when combined with PMF, creates a creamy luscious liquid foundation. The bottle of oils sells for $5.99. So, a small investment and oils, which work with my skin such as avocado, carrot and chamomile seed oils- all of which are great for the skin no matter your condition- how could i be dissapointed?
When it arrived in the mail I was so excited! Here is this small bottle of liquid gold that will help my face. The bottle was shrink wrapped and came with a paper of detailed instructions and a small .15cc measuring scoop for my PMF. The mixture of oils is silky smooth. When you follow the directions and incorporate with the PMF the result is a creamy, luxe combination of MMU. I didn't think this small scoop of PMF would cover my face but it does! The LMF glides on and sets to a powder finish that is light and barely detectable. My face felt soft, moisturized and lines were not visible. Remember, I do moisturize and prime before. I also put on a very light dusting of finishing powder. Still had my glow from my foundation and the bennies of a liquid..yay! Great day in the Nation!
Test run was a girls nite with a friend and it was a great test run. My makeup didn't itch, my friend said I had good coverage and it looked great. Wasn't shiny and i didn't feel like i had a layer of stuff on my face!
So this
Powder to Liquid Transformer
(yes my name for it) gets
5 stars
from me!
Check out
AceNaturals
on Etsy!