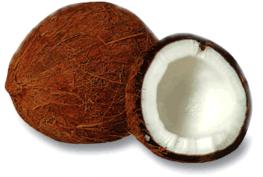 Okay my hair has gone through so many changes during my twenties and now added on is pregnancy my hair has had it with me and i with her. That being said i looked back to my teen years and how awesome my hair was then. What was the deciding factor in my hair looking so wonderful back then? Coconut oil. It was a small 4oz jar i used to buy in Perth Amboy in one of the grocery stores and it was just pure unrefined coconut oil. Lasted a whole long time and i think the jar was like $2-3 each so not bad.

In the winter it was a great heat protectant for when i straightened out my locks, and the rest of the year a great conditioner and deep conditioning treatment once a week.
So having spent much bucks on stuff that only worked for like a day or a month now I'm going back to what worked for years.
Went to the Vitamin shoppe and got my self a 15oz jar of
Organic Extra Virgin Coconut Oil
for $8
.99. It's cold processed and has no additives..just pure coconut oil! The smell is heavenly.
washed my hair after going to the pool and just put the oil and aloe vera in my hair. My hair is bouncy, soft and shiny!
This is with only a dime size amount of product by no frizz in it and I'm very happy. Even put a little into my daughter's hair and what a nice transformation it has made to her curl formation..Shirley temple has nothing on my kid.
Used it on my belly for stretch marks from a very active and growing babe and they are already going away. Much better than the Cocoa Butter which was clogging my skin and causing unsightly breakouts. Hesitant to use it on my face but I've got a good system with rosewater cleanser going on there anyways. On my hands and arms for over night it's great.
I wonder how long it'll take me to go thru this jar? Oh yeah i keep it in the fridge to keep it solid b/c at room temp (76 degrees) it becomes a clear liquid. A little bit goes a long way.
yay! Next project..will be to make natural hair gel from Flax seeds. I'm sick of buying drying hair gel that makes my locks look dry and unhealthy. Hubby is now happy with the reduction in cost for hair products and i can toss conditioner, hopefully gel and other styling products.
this is the you tube video with the flax seed process that i'm going to try:
Until next time!
Update:
second day with coconut oil and i upped the amount in my hair and my hair is fabulous! Shiny, soft moves and i can fluff without frizz! sorry about the grain..my laptop camera needs to be cleaned again.