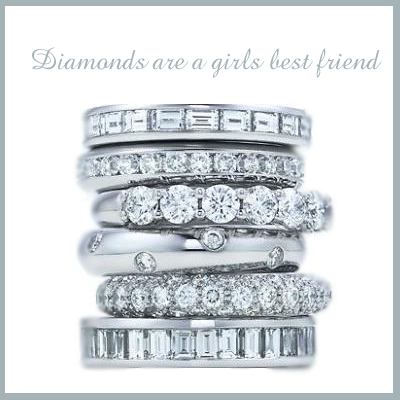 The April gemstone is one of the most coveted of all the gemstones on the planet. It is the rock we all look forward to getting from a guy on bended knee. It is the subject of wars and fair trade. It sparkles and shimmers and catches the light in such a wonderful way that one cannot help but smile when that sparkle greets our eyes.
All you lucky April babies are blessed to have a stone that comes in a variety of colors and shades and are still called diamonds. Cognac, chocolate, black, blue, champagne, canary, pink, etc. They are all wonderful examples of the beautiful carbon stone. In fact, the varieties of colored diamond have a higher value than their colorless sisters. Whether it's in a ring, a necklace, a bracelet or any other peice of jewelry, diamonds are a joy to have in any collection.
Myths and legend behind the stoen suggest that Cupid used diamond tipped arrows and thus the reason why the stone is coupled with love.
The Golden Jubilee, with the weight of 545.67 carats, is the largest faceted diamond in the world. Rough stone weighed 755 carats and was discovered in Premier mine, South Africa in 1985. The Golden Jubilee was presented to the King of Thailand in 1997 for his Golden Jubilee - the 50th anniversary of his coronation. Prior to this event, the stone was simply known as the Unnamed Brown. Estimated value of the Golden Jubilee is
$4-$12 million.

My favorite diamond is the Star of Africa:


The Cullinan I, a pear shaped diamond weighing 530.20 carats is also known as the Star of Africa. It measures 53mm x 44mm x 29mm, and has 76 facets. It's called the Cullinan I because it is the largest of 9 large stones cut from the 3106 carat Cullinan Diamond. Cullinan I was placed by King Edward in the Sovereign's Royal Scepter as part of the Crown Jewels, and it is now on display in the tower of London. Estimated value of Cullinan I is over $400 million!

But those are for royals. How can the everyday girl indulge in the April birthstone on a more realistic budget?

At Amazon diamond earrings can be quite reasonable at $59.99.

Kohl's
Sterling Silver Diamond Circle Bracelet
is a good investment piece at $75
Macy's has
14k White Gold Diamond Dragonfly Pendant (1/5 ct. t.w.)
on sale for $179
jewelry can be fun and worth investing in since we wear it so often and it makes us feel great!
Find your diamond and let it shine!