The latest issue of Glamor magazine has showing readers how to have fun with black and white. Mix patterns, chunky bangles, texture and more. I loved the shoes and they showed a lot of accessories like a clutch bag, and tights and jewelry!
According to Fashion Feng Shui, to wear white is to inspire trust. To wear black is to exude depth and strength. The combination of these colors results in an impression of confidence and power.
No wonder we love it when we see guys in a tux. James Bond..hello!
Well, I think ladies look just as great in Black and White as my cutie here James. In fact we pull it off better.
There are so many decadent choices when choosing to wear these two striking colors. I love being able to come up with an outfit of black and white that suits my mood. It can be comfortable and yes bold all at the same time.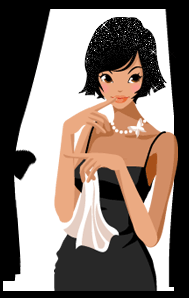 The opportunity to add more to an urbane black and white outfit is HUGE! Go with your mood or try something daring! Self magazine says that glam costume jewelry is making a come back. Utilizing huge pieces for the neck, loading up on chunky bracelets, bold earrings and shine and texture. Take your black dress to a whole new level with accessories.
In the quest for the perfect Bling here are the wonderful and beautiful baubles Jewels By Park Lane has to offer you!
The
Noche
ring. A beautiful black Cubic Zirconia makes a beautiful right hand ring and a statement on any hand. This item retails for $62 but go home with you for $12. Ask me How! This ring is even more stunning in person. The CZ reminds me of onyx. It has the same radiance as our Signature Ring in Jet and many women have said the ring is absolutely stunning. The facets just catch the light and sparkle.
Take a look at the
Francais:
Featuring beautiful Swarovski crystals, this ring is sure to please. Purchase this ring and qualify for a
BONUS
item up to the value of the Francais rings for
only $12
. Contact me to place your order.
Let's look at some white:
The
Joile Bracele
t with three rows of stunning freshwater pearls. This adjustable bracelet will give your black outfit the look for polish sophistication. Pair it with the 48"
Joile
pearl
necklace
and
Princess earrings
it's a match made in heaven. With 48" inches of necklace you can layer it and look as though you have on a multi-strand necklace, yet have the freedom to adjust the strands to the length of your choosing.
The
Frost
necklace and earrigns with the beautiful center of white Mother of Pearl is just a perfect statement set. Mother of Pearl picks up light and warms the skin. Used for centuries to adorne beautiful peices from jewelry to the necks of guitars, Mother of Pearl is a welcome addition to any jewelry wardrobe. This peice can go from winter to summer in a heart beat. What a great peice to wear to a party or the lazy day walking on a warm tropical island.
So for your next black and white outfit try Jewels By Park Lane. Bling it right, say it loud... with Jewels By Park Lane. Come Bling with me!